Providence Car Accident Attorney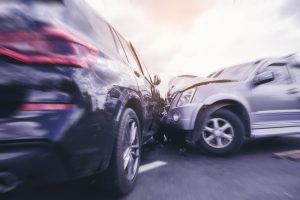 Every day, we rely on cars to get us where we need to go. A vast majority of people in Rhode Island and around the country use a car to travel to and from work. Our vehicles allow us speedy access to far-off locations, and it's easy to see why cars have become such a crucial part of daily life for so many. Unfortunately, the sheer number of people on the road means that car crashes occur at a terrifying rate, but things are made worse when drivers are uninsured.
Auto crashes can be absolutely devastating because of the speed and size of vehicles. Crash accident victims are forced to endure pain and fear at the moment of the crash. Tragically, for many, their situation gets even worse after the accident. They face incredibly high medical bills and are forced to take time off work to recover, resulting in lost wages. Injuries continue to cause them extreme physical suffering and emotional distress. Some car accident survivors are burdened with lasting disabilities that will negatively impact their quality of life. All of these circumstances make pursuing compensation on their own near impossible. If you are in this situation, reach out to the legal team in our downtown Providence office today.
At the Law Offices of Ronald J. Resmini, Ltd., we believe that you should not have to bear the costs of a car accident caused by someone else's negligence or carelessness. State and federal laws provide legal recourse for victims caught in a crash resulting from another party's irresponsible actions. If another party caused or contributed to the car accident that injured you, you might be entitled to financial compensation. 
Our skilled team of Providence car accident attorneys can fight to get you the damages you deserve from the responsible party. Our car accident lawyers can help you through the difficulties associated with recovering from a crash that was not your fault. 
Call us at (401) 751-8855, or reach out to us online to learn more about your legal options and how we work to develop the attorney-client relationship starting with a free consultation.
Car Accident Lawyers Hold Dangerous Drivers Accountable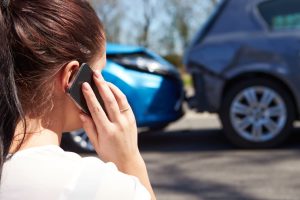 The deaths and injuries caused by motor vehicle crashes in Rhode Island and around the country are simply unacceptable. Most automobile accidents are preventable with responsible, diligent, and focused driving. By doing away with reckless, dangerous, and negligent driving behaviors, we can save lives and prevent injuries. One way to accomplish this is by holding these irresponsible drivers accountable for their actions and making them and their insurance companies, pay the maximum compensation for the damage they cause.
Of course, no amount of money can begin to compensate for the loss of a loved one or the permanent destruction of your health, but making those who have harmed you face up to what they've done and take responsibility for their wrongdoing can provide a deterrent to unsafe driving behaviors while helping to ease the financial burden you are suffering in the wake of a serious injury from an auto accident.
Rhode Island personal injury lawyers know that together, one way we can deter dangerous driving and the type of negligence that results in injuries to others is to hold those who cause accidents liable to their victims.
If you or someone in your family was seriously injured or died in a Rhode Island road or highway accident caused by someone else's wrongdoing or negligent driving, with the help of a highly experienced legal representation, you may qualify to receive compensation for both your economic damages and the losses to your quality-of-life. Holding wrongdoers accountable will not only help you and your family, but it will also make Providence Rhode Island, and its roads, safer for everyone.
What Are the Most Common Causes of Car Accidents in Providence?
Often, car accident cases are caused by someone's poor driving or by hazardous conditions on the road. In either case, your car accident lawyer will conduct an investigation, often calling upon accident reconstructionists and traffic safety experts to determine the factors that contributed to the crash.
Car Accident Injuries Related to Driver Error
Car accidents may be caused by various types of negligence. They may often be attributed to other drivers engaging in dangerous behaviors, such as drunk or impaired driving, distracted driving, speeding or aggressive driving, or some combination of these. Or, the primary or contributing cause may be a hazardous condition on the road.
While a lot of car accidents can be traced back to drunk driving, or irresponsible driver behavior, crashes can still occur when alert drivers make all the right decisions. Why? There are several explanations. Sometimes road conditions are so dangerous that accidents are bound to happen. Road construction companies and government groups responsible for upkeep can be held responsible if they allow or create overly treacherous road conditions on construction sites. Additionally, car manufacturers can be at fault. If a driver attempts to stop but finds that the brakes are entirely unresponsive, the resulting crash can be disastrous. Likewise if the vehicle rolls over. Car designers, manufacturers, and distributors are responsible for making sure vehicles are safe to operate and will function as intended.
Reach out today for a free, no-obligation consultation with one of our Providence car accident lawyers.
Car Accident Injuries Not Related to Driver Error
Some causes of accidents and injuries not related to driver error include:
Missing guardrails
Standing water
Lack of lane dividers or pavement markings, especially on winding roads
Whether or not your car crash can be traced to negligence from a driver, a manufacturer, a construction company, or another organization, a skilled car accident attorney can help you hold the responsible party accountable. We can help you secure the damages you need recover.
Drunk or Drugged Driving in Providence
Alcohol or drug use simply does not mix with driving. This includes not only illegal substances but also many prescription and over-the-counter medications. An impaired driver is a dangerous driver.
Alcohol-related crashes killed 20 people in Rhode Island 2018 according to the Rhode Island Department of Transportation. Rhode Island ranks above the national average and is in the top third of states in the nation for fatalities related to drunk or alcohol-impaired crashes.
Aggressive Driving and Speeding: Slow Down!
Driving faster than the legal limit increases the danger of losing control of the car, and it also increases the force of the impact in a crash, increasing the likelihood of catastrophic injuries or death. Excessive speed is a factor in a third of all highway accidents.
Aggressive drivers often exceed the speed limit as they weave in traffic, cut others off, zoom up on other cars from behind, and tailgate. This type of driving is often accompanied by other types of rude and dangerous behavior, such as cursing, using obscene gestures, and failing to signal.
Providence RI Distracted Driving Accidents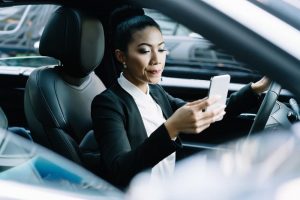 We live in a high-paced world where multitasking has come to be the norm. But the highway is not the place to be doing anything other than driving. Anyone who gets behind the wheel of a car should only be focused on only one thing: the road. Doing anything else while driving that creates a distraction, even for a few seconds, can be deadly. Perhaps the most dangerous distraction is texting, which increases the likelihood of a crash by 23 times.
Other distractions include:
Talking on a cell phone
Rubbernecking (looking at roadside events or accidents)
Adjusting the radio
Choosing or inserting CD
Eating or drinking
Grooming, for example, brushing hair or applying makeup
Setting the GPS
Reading
Consulting a map or written directions
Disciplining children
Unrestrained pets
Reaching for fallen objects
Talking to passengers
A distraction while driving at a high speed, even a momentary one, may cause a driver to:
Drift out of the proper lane and into the path of an oncoming car traveling in the opposite direction
Fail to signal lane changes or turns
Change lanes without checking blind spots
Turn the wrong way onto a one-way street
Enter a highway ramp in the wrong direction
Disregard a traffic signal
Fail to notice a bicyclist or pedestrian on or near the road
These cases may be complicated by challenging issues regarding competing causes of the accident, civil engineering, or government immunity. So make sure the law office you choose is familiar with your type of car accident case.
Rhode Island Car Accident Statistics
Car accident fatalities are on the decline nationwide, but they remain a cause of physical, emotional, and financial suffering for tens of thousands of victims. The National Highway Traffic Safety Administration estimated that 42,915 people died in motor vehicle traffic crashes in the United States in 2021, and 2.74 million were injured in 2019. 
In Rhode Island in 2020, 67 people died in car crashes and countless others suffered serious injuries, including many that were catastrophic and life-changing.
While Rhode Island constantly strives to decrease the number of car accident fatalities and injuries, crashes continue to claim innocent victims. Even one accident is too many for the victims involved. 
Rhode Island has a car accident fatality rate that is somewhat lower than average as compared with the rest of the country, but that is little consolation to those who lost family members or suffered damage to their own health in an accident on the state's roads, especially when their loss was through no fault of their own, but the result of someone else's negligent driving.
Tragically, many car accidents that happen are entirely preventable. If drivers were all to operate their vehicles while fully aware and alert, fewer crashes would occur. If vehicle manufacturers and groups responsible for road conditions would properly see to safety concerns, fewer people would be hurt in accidents. When a person or a group acts irresponsibly, they put others in serious danger. Unsuspecting victims hurt by their negligence deserve monetary recompense so that they can cover the costs of their injuries and move forward with their lives.
Unfortunately, you can only control your own driving behavior; there is not much you can do to control what others do out there on the road. Careless, reckless, and negligent drivers abound. Some fail to keep their attention focused on the road and become distracted, while others get behind the wheel after consuming alcohol or drugs, disregard traffic laws, or run red lights and stop signs. Others drive past posted speed limits, or too aggressively, or fail to adjust their driving for road or weather conditions. As a result, some unlucky Providence drivers and their passengers, despite responsible, focused, and skillful driving, find their lives in turmoil, their bodies are broken, and their finances in shambles, all because of another's wrongdoing.
However, if you've been hurt by an irresponsible driver, you can hold them accountable for their actions even if they never admit fault. A car accident attorney, with the legal experience you need, from the Rhode Island Personal Injury Law Offices of Ronald J. Resmini Ltd., can help you and your family.
Death and Disabilities From Highway Accidents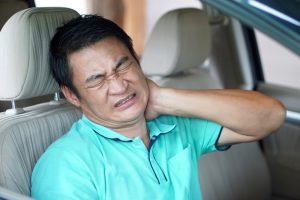 Even low-speed auto accidents can take an excruciating toll on your body. High-speed collisions are more serious and can cause more serious injuries, or even death, simply because of the velocity of the two vehicles at impact.
The possible types of injuries are many, including:
Spinal cord injuries, including paraplegia and quadriplegia
Neck and back injuries, including sprains, strains, and herniated discs
Facial injuries
Internal organ injuries
Internal bleeding
Lacerations
Scarring
Psychological damage: anxiety, phobias, PTSD (post-traumatic stress disorder)
Chronic pain
How Do I Recover Damages Following a Providence Car Accident?
When you've been seriously injured or have lost a family member in an accident in Providence, that was caused by someone else, you are entitled to make a claim for compensation for your injuries against the person who caused your accident, the company, or government entity responsible for causing or allowing a hazardous road condition, or a manufacturer of a defective vehicle or one of its parts.
Some of the damages that may potentially be recovered include, but are not limited to:
Medical Expenses
Lost earnings and earning potential
Expenses for household services you can no longer perform
Cost of transportation and childcare for medical appointments
Cost of assistive devices
Pain and suffering
Disability
Mental anguish
Psychological disturbance
Loss of affection, companionship, or marital consortium
Diminished quality of life
Funeral expenses (in wrongful death cases)
The compensation you could receive depends on the extent of the damage and the costs of your injuries. An experienced car accident lawyer can help you get financial compensation to cover some or all of the expenses of your injury. 
A successful suit can give you the financial resources you need to handle the costs of your injury. Medical debt, even from a minor injury, can wind up being unaffordable. When you secure damages through the courts, you are making sure you have the money to handle your injuries without going into debt. Additionally, many people seek damages to hold the responsible party accountable. Justice can be served when the negligent person or group has to pay for the consequences of their actions. 
Being forced to pay damages can also act as a deterrent to a reckless driver or a careless manufacturer. They will be less likely to hurt others by repeating their careless actions in the future.
Reach out to our law firm today. We're here, and ready to help you resolve your case.
What Should You Do Immediately After a Car Crash?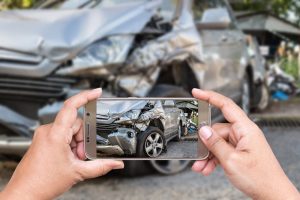 When you've just been in a car accident, you will probably feel shaken up and somewhat dazed. Take some time to regain your focus, and if you are able, take these steps to protect your immediate safety- and your rights:
Turn on your hazard lights, and if you can do it safely, move your car off to the side of the road.
If you have passengers in your car, check on their condition. Try to determine if anyone, whether in your car or another vehicle involved in the crash is seriously injured and needs to seek medical attention. If so, call 911 and ask the operator to dispatch an ambulance.
If no one appears to need an ambulance, call the non-emergency police number and request an officer to make a police report.
While waiting for help to arrive, if you are able to move about, record the names, contact information, registration and plate numbers, and insurance coverage information for all drivers and owners.
Avoid discussing how the accident happened. Do not apologize. As a polite person, you may be inclined to say 'I'm sorry,' whether you caused the accident or not. Don't. It could be taken (wrongly) as an admission of fault on your part.
Take photos of the accident scene, including the damage to each vehicle. Get a picture of some type of geographic marker, such as a street sign, that will identify the accident's location. Never post these pictures or discuss your case on social media.
Get medical attention. If you've asked for an ambulance, it will take you to the nearest hospital emergency room. If not, go to the ER yourself, or visit an Urgent Care Clinic or your own doctor. Let the doctor know that you've just been in a car crash.
Be aware that even if you don't believe you've been injured, the adrenaline rush that occurs during an accident may be masking pain. In addition, some injuries are not apparent right away, and you may not realize for hours or days that you've been hurt. If you fail to get medical attention within a reasonable time after an accident, you could risk losing the right to recover compensation for your injuries.
Report the accident to your insurance company, giving the date, time, and location, without providing details on how the accident occurred.
Call our law firm, an experienced Rhode Island car accident lawyer will help you. You should always bring a personal injury attorney and their law firm on board as soon after the accident as possible to protect your right to recover compensation. You will find the skill and experience you need in a personal injury lawyer from the law firm of Ronald J. Resmini in Providence, RI.
Expect a call from the at-fault driver's insurance company. Do not engage in any discussion of the accident or your injuries. Trying to negotiate a settlement with an insurance adjuster without the benefit of a lawyer is a mistake that could cost you dearly. Do not allow the adjuster to take a recorded statement. Do not sign anything. Refer the adjuster to your attorney.
About Car Accidents and the Law in Providence
When you decide to pursue an auto accident suit, you are relying on civil law. Civil law differs from criminal law in its overall intent. Criminal law cases involve accusations of illegal activity brought against a defendant by the government. 
These cases can result in punitive measures such as jail time or fines for those convicted. Civil law, on the other hand, deals with a private citizen or a group accusing another entity of negligence or wrongdoing. When the victim wins a civil case, the defendant can be ordered to give them monetary compensation in the form of damages.
Imagine that you were driving to work in the rain when a speeding car collided with the side of your vehicle at an intersection. The person driving the other vehicle had tried to stop, but the rain made it impossible. In the crash, you broke your leg and experienced a mild concussion. You were forced to miss work to go to the doctor and had to take time off to heal. Medical treatments, physical therapy, and medications resulted in high hospital bills. 
A skilled car accident attorney with a supportive law firm could help you pursue a civil case to make the responsible party pay for the various costs of your injuries. In this situation, let's say the driver claims that they were following all traffic laws but the rain prevented them from stopping. 
An experienced car accident attorney could secure the services of experts to establish that the other driver's car would have been able to properly stop if the vehicle had been going the speed limit. Since the driver was breaking the law and endangering others by speeding, you would be able to receive money to cover your medical treatment and any lost work wages, in addition to compensation for pain and suffering.
Why Should You Choose Our Providence Car Accident Lawyers?
Our experienced auto accident attorneys understand that our clients have already gone through a terribly traumatic experience. That's why we prioritize clear communication and compassion for all the people we fight for. We strive to make the legal process as painless and transparent as possible. Additionally, our compassion is matched by our competence. A long record of success demonstrates our lawyers' and law firms' abilities, experience, and knowledge. 
For example, we have secured amounts as high as $900,000, $750,000, and $645,000 for car accident victims and their families. We are driven to work hard for you, and we have the results to prove it. Our fees and costs are entirely tied to your legal victory. If you don't get financial compensation, you don't owe us a single cent.
Contact Us for a Free Car Accident Consultation
Call the Law Offices of Ronald J. Resmini, Accident & Injury Lawyers, Ltd. today to arrange a free consultation. Tell us about the accident and your injuries, and we'll explain the legal process and answer all of your questions in your effort to pursue compensation. 
We accept personal injury and wrongful death cases on a contingency agreement, so you will never receive a bill for legal fees or expenses unless we win money for you. 
Call a car accident lawyer at (401) 751-8855 now. If you wait, you could miss a filing deadline and lose your right to make a claim for your personal injuries.