Providence Attorneys for Improper Construction Sign Car Accidents
Driving through areas that are under construction can often be stressful and confusing, but with improper or inadequate signage, the results can be dangerous or even deadly. If you have been injured in an accident caused by improper or inadequate signage in or surrounding a construction zone, you may be owed compensation for your injuries.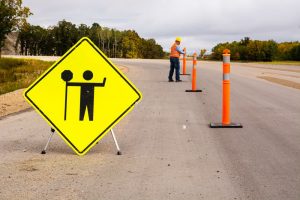 Filing a lawsuit against a construction company or the government can be complicated, but the right attorney will take care of the difficult legal process so you can focus all your energy on recovering from the accident. The Providence car accident attorneys of the Law Offices of Ronald J. Resmini, Accident & Injury Lawyers, Ltd. have decades of experience fighting for compensation for car accident victims. We will do everything in our power to understand the details of the accident and gather sufficient evidence to build a strong case for you.
Contact us today at (401) 751-8855 for a free consultation.
Types of Improper or Inadequate Signs
Drivers rely on road construction companies and government agencies to provide clear signage in construction zones. Even the most skilled and alert drivers can find themselves in danger when signs before and within a construction zone are missing or misleading. The Manual on Uniform Traffic Control Devices for Streets and Highways lays out the federal requirements for signs within a construction zone beginning on page 576 of the manual. Failure to follow these regulations can cause accidents. Some examples of potential problems include:
Unclear lane markers – During major road construction, traffic patterns can shift frequently. Temporary lane markings can be faint and difficult to see, especially at night or in inclement weather. To make matters worse, road crews sometimes paint additional markings on the road without removing previous markings, which makes it difficult to determine the correct lane boundaries.
Lane ends abruptly – When a lane is closed due to construction, the construction company should place signs well enough in advance to advise a driver of the closure. When these signs are absent or not far enough ahead of the zone, drivers may be caught off guard when their lane is suddenly blocked by orange cones. The driver may swerve or slam on the brakes to avoid them, which can often result in a collision.
Insufficient warning that a flagger is ahead – Signs should be placed within a specified distance to indicate that a flagger is directing traffic ahead. The required distance is dependent on speed because drivers need more space to stop at higher speeds.
Speed limit – Rhode Island's Department of Transportation or local governing unit can post a lower temporary speed limit in construction zones to protect both drivers and construction workers. If the DOT fails to update speed limit signs, or if the posted speed is still too fast for the conditions, dangerous accidents can occur.
Sign size and placement – There are specific requirements for how big each type of sign should be and where it should be placed. This includes sign height as well as which side of the road the sign should be located on.
Lighting and reflectivity – Signs should be reflective, and, in some cases, such as at a flagger station, proper lighting is also required. If a driver cannot see the sign, it is almost like it is not there at all.
Sign installed incorrectly – In some situations, breakaway signs are required by federal law. These signs are designed to break or bend away from the vehicle if they are hit. If they are installed backward, the sign can fall towards the vehicle, causing severe damage and injury when it breaks through the windshield.
Improper maintenance – During lengthy construction projects, signs can become damaged by weather, dirt or debris, or other factors. Signs should be maintained regularly and replaced as needed to ensure visibility.
Each of these problems is easily preventable with proper planning and care on the part of the construction company or government agency in charge of the project. When individuals fail to follow proper guidelines and statutes for road signs in construction zones, the results can be devastating.
Pursuing Compensation for Your Injuries
When construction companies or government agencies neglect to provide adequate signage, they should be held accountable for any injuries that result. Many construction projects involve multiple contractors, so it can be especially difficult to determine who was responsible for the problems that caused the accident. A skilled Providence personal injury attorney can help you understand the laws regarding proper signage in construction zones and will be your advocate as you pursue full compensation for your injuries.
What Type of Compensation Am I Eligible For?
Since every case is unique, the only way to know what you may be eligible to receive is by speaking with one of our attorneys. In general, accident victims may be owed compensation for:
Medical bills (both past as well as future)
Long-term care and rehabilitation
Lost wages and/or loss of earning potential
Pain and suffering
Emotional trauma
Disability
If your loved one was killed in an accident caused by an improper or inadequate construction sign, you might also demand compensation for their wrongful death.
Talk to a Providence Car Accident Attorney Today
When you have been injured in an accident caused by improper or inadequate signs in a construction zone, the last thing you need is more stress because you're navigating the legal process. The party responsible for construction will have lawyers that fight hard to show that the driver was at fault, so you need someone on your side who won't back down.
The attorneys at the Law Offices of Ronald J. Resmini, Accident & Injury Lawyers, Ltd. have been advocating for accident victims in Providence and surrounding areas for over four decades. Our attorneys have been named to prestigious lists such as Super Lawyers and Rising Stars, which contain some of the top attorneys in Rhode Island.
You need an attorney on your side as soon as possible to begin gathering evidence and ensuring that everything is in order as you seek continuing medical treatment. There is no cost to get started because we only receive payment after we have secured compensation for your injuries.
Call us today at (401) 751-8855 for a free consultation.