Providence Detached Tire Tread Car Accident Attorneys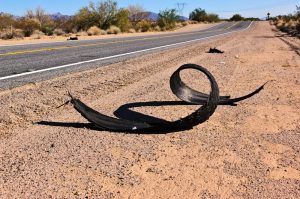 Being involved in any motor vehicle accident is often shocking and traumatic. Experiencing an accident due to a detached tire tread can be particularly terrifying, as these shreds may fly into the braking mechanism and cause a loud flapping noise before the tire blows out. When an event like this occurs, the driver and occupants of a vehicle are put in serious danger, especially when traveling at highway speeds. Tire tread detachment can cause the driver to completely lose control over the vehicle, causing collisions with other automobiles or barriers. Some vehicles might even roll over.
In general, tread separation is the result of a tire manufacturing defect. While modern tires are far less likely to blow out than tires of the past may have been, tread separation is rather common in modern radial tires if there are defects. In fact, instances of what people call "blowouts" today are much more likely to be tread separation incidents.
If you have been injured in a car accident in Rhode Island and a detached tire tread was the cause, you should not bear the financial burden of the medical bills and associated expenses from your injury. The manufacturers of the defective tire should be held accountable for their negligence. The Providence car accident lawyers of the Law Offices of Ronald J. Resmini, Accident & Injury Lawyers, Ltd. are here to help you recover compensation for your expenses, lost wages due to missed time at work, and your physical and psychological pain and suffering. Contact us today at (401) 751-8855 for a free consultation, and we will talk you through your legal options.
What Causes Detached Tire Treads?
Detached tire treading (also known as tread separation) is the most common type of tire failure. Most modern tires are steel-belted radials, which feature two steel belts that wrap around the tire itself. The treading is attached to these steel belts, and the construction as a whole is then bonded to the sidewalls of the tire.
The process of adhering steel to rubber is chemically complex and requires a great deal of precision and care. If the components are not lined up properly, there will be weak spots in the tire. Due to the fact that only the tread of the tire makes contact with the asphalt on the road, the tire as a whole is under an enormous amount of pressure when the vehicle is traveling at speed. The pressure is intensified on hot days, and the temperature of the road itself reaches high levels. Combining these factors makes it highly likely that defective spots in a tire will give out and create the potential for dangerous accidents, especially during the summer months.
Who Is at Fault if a Detached Tire Tread Causes a Car Accident?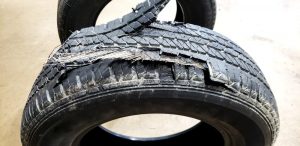 Determining fault in a detached tire tread car accident case rests on the ability to prove that the tire was defective, rather than simply being old or worn. If your legal team is able to convincingly demonstrate this, they will be able to hold the tire manufacturer liable for your injuries, any property damage that occurred, and other losses you may have suffered.
When it comes to proving a manufacturing defect, the most important piece of evidence to preserve is the tire and the tread. Once the defect has been established, it is still important to demonstrate that the tread detachment was what caused your crash. The tire manufacturer may claim that other parties were responsible for the crash and may even argue that your own driving is to blame.
The Rhode Island car accident attorneys at the Law Offices of Ronald J. Resmini, Accident & Injury Lawyers, Ltd. will work with engineers to analyze what remains of the tire and tread to determine the cause of its detachment. We can employ crash reconstruction experts who can assist in understanding what occurred after the tire tread failed.
The final step in the preparatory process is to document the extent of your injuries and damages that came about as a result of the accident. To do this, we will request copies of the following documents:
Medical records associated with injuries from the accident
Statements from witnesses who were at the accident scene
Medical bills and receipts
Car repair receipts
Receipts from out-of-pocket expenses relating to your injuries
With this information and evidence, we will be prepared to fight for the fair compensation you deserve for the full range of your accident-related losses.
Tread Separation and Recalls
The risk of tread detachment is one of the most common reasons that tires are recalled in the United States. If you are unsure as to whether your vehicle's tires might have been subject to a recall, you can look at the National Highway Traffic Safety Administration's online recall search. You can also check the website of the manufacturer of your tires.
Because tread separation has caused numerous deaths and injuries, there are now stricter safety rules for companies that design and manufacture tires. Those who do not adhere to those rules need to be held accountable for their negligence to protect the interests of as many people as possible.
Contact a Providence Defective Tire Car Accident Attorney Today
If you have recently been injured in a car accident and you suspect that it was caused by a detached tire tread, you have the right to file a claim for compensation. The experienced Providence car accident attorneys at the Law Offices of Ronald J. Resmini, Accident & Injury Lawyers, Ltd. will fight aggressively for the financial recovery that you deserve. We are unafraid to stand up to the big corporations, their insurance companies, and their lawyers. Our job is to achieve justice on behalf of our clients, and we take our work seriously.
Contact the legal team at the Law Offices of Ronald J. Resmini, Accident & Injury Lawyers, Ltd. for a free consultation today. We will give you a frank and clear evaluation of your case so that you can understand what your legal options are. Call us today at (401) 751-8855 and let us get to work for you.