Providence Attorneys for Car Accidents Caused by Objects or Debris on the Road
It may not seem obvious, but road debris is often a significant cause of accidents in the United States. According to the AAA Foundation for Traffic Safety, an annual average of over 50,000 motor vehicle collisions happen across the country due to objects on the road. In addition to serious property damage, these accidents lead to around 10,000 injuries and over 100 deaths every year. Most of these casualties occur on interstate highways.
However, unlike with many other causes of accidents, it can be incredibly difficult to determine liability in vehicle collisions that come about because of road debris. If you or someone you know has suffered an injury in an accident involving stray objects on the road, contact the Providence car accident attorneys of the Law Offices of Ronald J. Resmini, Accident & Injury Lawyers, Ltd.. Call (401) 751-8855 today, and we'll help you determine what your legal options might be.
Collisions and Road Debris
There are often significant numbers of scattered objects on any given road. Regardless of their size, many of these items have the potential to turn even a routine journey on a straight road into a collision. Such debris can come in the form of tire treads from large trucks, loose stones in potholes, mattresses, or agricultural or construction goods that have come loose from their transport vehicles.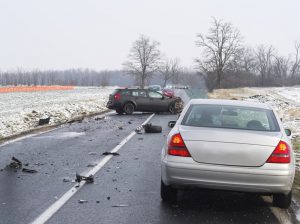 Debris-related accidents can happen to anybody. They are not restricted to certain age groups or levels of driving experience, although stray objects do tend to pose a greater danger to new drivers than to their more seasoned counterparts. In either case, however, debris often increases the risks associated with other collision factors, such as weather conditions, visibility issues, the influence of intoxicants, vehicle maintenance problems, and distraction.
How Should a Driver Handle Road Debris?
When you realize that you are moments away from hitting an unexpected obstacle on the road, the most likely response is a reflective reaction that results in one of two outcomes:
Stop before your vehicle collides with the object. Slamming on the brakes often seems like the best way to avoid hitting the debris, since that is the way most motorists would react if they were about to hit another vehicle. However, depending on how fast you are going, as well as the conditions of the road and the weather, sudden braking may result in a loss of control of the car. Even at slower speeds, you could still experience a rear-end collision. This might result in anything from whiplash to debilitating or fatal injuries for yourself or your passengers.
Change your path before the vehicle collides with the object. If the distance between your vehicle and the object is great enough when you spot it, you might swerve to avoid hitting the debris. Yet, depending again on the conditions, such a maneuver might also cause you to lose control. In such a scenario, you may not realize that there are other vehicles beside you or oncoming traffic in the other lane. Even a few seconds of distraction can be enough to cause a head-on collision or a side-impact crash with another motorist or with fixed objects on the road.
To compound the challenge of these moments, it can be just as dangerous to take no action at all. While it might seem as though driving over a smaller piece of debris is the safest thing to do in this kind of situation, some innocent-looking debris can actually cause extensive damage to your vehicle.
Who Is Responsible for Road Debris?
In order to determine liability in a debris-related crash, it is important to establish who was responsible for the object's presence on the road. It is also necessary to find out who should have cleared the debris before it became a hazard.
The debris may have come from another vehicle. Poorly secured mattresses or household appliances often fall off the carrier. In a similar fashion, large commercial trucks often leave behind thick tire treads that can create dangerous obstacles. In such cases, the owner and/or motorist of the vehicle that caused the object to become a hazard are responsible.
However, unless you witness something flying off a vehicle in front of you, it is often difficult to determine exactly where the object came from. Even under such circumstances, the driver may not realize that they have created a danger and may drive away before you have had an opportunity to collect their details.
Sometimes, dump trucks that are filled with rocks or construction material can hit a bump, sending their cargo flying into your windshield. Holding them accountable can be tricky because this may or may not be due to negligence on the part of the driver or the vehicle's owner.
If the rock that has broken your windshield or punctured your tires has come from a pothole, the state or municipal agency that is responsible for maintaining the roadways may be liable for the damage.
The Right Attorney Can Help You Reach Your Desired Outcome
If you have been injured in a vehicle accident that was caused by debris or objects on the road, you need an experienced attorney. Your Providence personal injury attorney from the Law Offices of Ronald J. Resmini, Accident & Injury Lawyers, Ltd. will know how to navigate the tricky path of determining liability in such situations. As is the case with all states, Rhode Island has Right to Information/Public Records laws, and the right lawyers can use these to compel state and municipal agencies to release information that might prove negligence.
The legal team at the Law Offices of Ronald J. Resmini, Accident & Injury Lawyers, Ltd. has been representing clients in Providence and throughout Rhode Island for more than four decades. We have extensive experience handling claims that arise from road-debris accidents, and we have a reputation for taking the aggressive action necessary to secure the compensation you deserve.
It is essential that you have an excellent attorney on your side as soon as possible so that we can begin to gather the relevant evidence and take the first steps in the legal process while you are focusing on your recovery. There is no need to be concerned about cost, as we receive payment only after we have secured your compensation.
Call us today at (401) 751-8855 for a free consultation.