Providence Attorneys for Bone Fractures from Car Accidents
Did you sustain a bone fracture in a car accident that was caused by someone's negligent actions? Contact the Law Offices of Ronald J. Resmini, Accident & Injury Lawyers, Ltd. in Providence now.
Suffering a bone fracture can be painful, and the recovery can be grueling. Not only do you incur exorbitant medical expenses for your treatment, but you might also lose income because you've had to take time away from work to have your injuries treated and recover. These costs can add up quickly, and you shouldn't have to shoulder them if you didn't cause the accident.
Our Providence car accident attorneys have experience handling bone fracture cases and have helped our clients obtain significant compensation for their injuries. Led by Founding Partner Ronald J. Resmini, we have over four decades of experience handling some of the most complex personal injury cases. We aggressively fight insurance companies to get them to pay our clients what they deserve. We also have extensive litigation experience, so we're always prepared to take your case to court, if need be, in order to try to get full and just compensation for your injuries.
If you're ready to pursue compensation for your bone fracture injury or have questions about your a potential personal injury case, call the Law Offices of Ronald J. Resmini, Accident & Injury Lawyers, Ltd. now at (401) 751-8855 or contact us online. We're available 24/7 to help you with your case. You'll get a free consultation where we can discuss your injuries, the accident, and your legal options.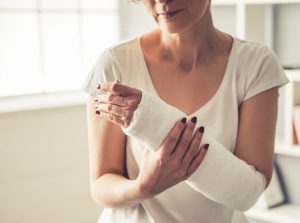 What Are Bone Fractures?
A "fracture" is a medical term for a break or crack in your bone. Bone fractures are common injuries in serious car accidents because of the force involved in the collision. When you suffer a bone fracture, the bone could be shattered or broken in a variety of ways:
Stress fractures – not a break, but a small crack in the bone
Partial fractures – the bone isn't completely broken
Complete fractures – the bone is completely broken in half
Closed fractures – the skin hasn't been broken open
Open or compound fractures – the skin is punctured
Displaced fractures – the broken bone is misaligned; can be closed or compound
How Are Bone Fractures Treated?
As you might have experienced, bone fractures can be extremely painful. Bone fractures can vary in severity, and treatment depends on how serious the fracture is. Most bone fractures will require immediate medical attention, and some are multi-faceted. For example, compound fractures don't only require treatment for the fractured bone but also immediate treatment for the broken skin. It's important for medical professionals to stop any significant bleeding and prevent infection. Any serious bone fracture may require surgery.
Less serious bone fractures may require the use of a cast or splint. These treatments help to stabilize the bone so that your body can do what it often does best: heal itself.
Possible Compensation for Car Accident Bone Fracture Injuries
The losses you've suffered because of your injuries can be categorized this way: financial and emotional/mental. You could obtain compensation, or damages, to cover these losses.
Your financial losses are the calculable costs that you've incurred as a result of your injuries. You might be entitled to economic damages for:
Medical expenses for the treatment you've needed to recover from your injuries (this includes estimated future medical expenses)
Lost income or wages from missed work because of your injuries
Loss of future earning ability due to your injuries
Cost of replacing or repairing damaged property
Other losses that you've been suffering from aren't as easy to quantify. These are the more subjective costs of your injuries, such as how your injuries have affected you mentally and emotionally. You could obtain non-economic damages to cover these losses, which include:
Loss of enjoyment of life
Loss of quality of life
Pain and suffering
Mental anguish
Emotional and mental effects of being permanently disabled, scarred or disfigured
If your personal injury insurance claim isn't resolved with a settlement for fair compensation for your injuries, your case will likely be litigated in court. In addition to an award of damages that covers your injuries and accident-related losses, a judge or jury could award you punitive damages. These damages aren't often awarded in personal injury cases. You have to provide clear and convincing evidence showing that the at-fault party acted with malice, reckless indifference, or ill-will.
A factor to consider when determining how much compensation you could be awarded either in your personal injury claim or your lawsuit is shared fault. For example, in a car accident, someone is responsible, or at fault, for causing the accident, and that person is often the negligent driver. But in some events, both the injured party and the negligent driver share some fault for causing the accident. This is where the pure comparative negligence doctrine applies. In Rhode Island, the law states that if you were partly at fault for the accident, your compensation would be reduced in proportion to your fault. Unlike in many other states, you can obtain compensation no matter how much at fault you were for the accident.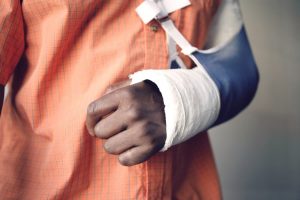 Time Limits for Filing a Lawsuit in Rhode Island
The statute of limitations for personal injury lawsuits in Rhode Island is three years. This means you have three years from the date of the accident to file a personal injury lawsuit against the negligent party. Should the statutory deadline expire before you file suit, you will have lost the opportunity to pursue compensation through the court system.
Call the Law Offices of Ronald J. Resmini, Accident & Injury Lawyers, Ltd. Right Away
Did you break a bone in a car accident? Was that car accident someone else's fault? You have the right to pursue compensation for your accident-related injuries and losses.
Contact the Law Offices of Ronald J. Resmini, Accident & Injury Lawyers, Ltd. today to discuss how we may be able to help you obtain compensation to cover your medical bills, lost income, emotional pain and suffering, and more. Call us at (401) 751-8855 to schedule a free consultation with one of our dedicated car accident attorneys. There are no upfront fees if you decide to hire us. We're not paid until you are.
Don't delay getting the justice you deserve for your car accident injuries. Call (401) 751-8855, or reach out to us online today.