Providence Attorneys for Car Accident Caused by Unlevel Shoulder
If you were involved in a car crash caused by an unlevel shoulder, do not hesitate to contact the Law Offices of Ronald J. Resmini, Accident & Injury Lawyers, Ltd.. You might be entitled to compensation from the negligent party responsible for maintaining the roadway.
An unlevel shoulder can create a hazard for drivers. Whether from poor weather or inadequate maintenance, the shoulder can become damaged and uneven. Cracks and holes can appear, making it challenging for anyone to stabilize their vehicle while driving on the shoulder. The defect can cause someone to lose control of their car and crash.
At the Law Offices of Ronald J. Resmini, Accident & Injury Lawyers, Ltd., we understand the challenges you can face after a car accident. You're forced to take time out of your schedule to attend doctor's appointments so you can heal. If you can't afford to pay your medical bills, you could end up in debt. Many people can't return to work and suffer a loss of income.
Our Providence car accident attorneys will fight for you. We can advocate for your rights and aggressively pursue the maximum compensation you deserve. Our legal team will investigate the crash to determine who was at fault and work to hold the negligent party liable for their actions. We will not rest until we do everything we can to try to reach your desired outcome.
Call the Law Offices of Ronald J. Resmini, Accident & Injury Lawyers, Ltd. today at (401) 751-8855 for your free consultation and learn more about how we can help.
How Unlevel Shoulders Cause Car Accidents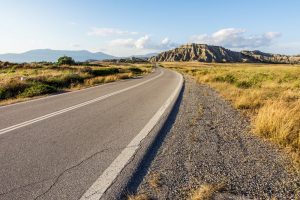 An unlevel shoulder can occur for various reasons, including:
When the shoulder isn't even, the tires on a car can lose traction, causing the vehicle to veer off the road. If a driver isn't paying attention or is driving at a high rate of speed, it's more challenging to control the direction of their car. They could run off the road, collide with a telephone pole, or overcorrect and end up in the path of an approaching vehicle.
Common Injuries in Car Accidents Caused by an Unlevel Shoulder
An unlevel shoulder could be the catalyst a car needs to run off the road or rollover. Severe injuries often occur in collisions and rollovers. The most common injuries include:
Psychological trauma
Internal bleeding
Broken bones
Paralysis
Nerve damage
Lacerations
Significant scarring or disfigurement
Crush injuries
If you suffered any type of injury in the accident, contact the Law Offices of Ronald J. Resmini, Accident & Injury Lawyers, Ltd. to determine whether you can hold the at-fault party liable. Government entities are typically responsible for maintaining roadways. If an employee failed to perform proper repairs or maintenance, resulting in an unlevel shoulder, they could be to blame.
Compensation for a Car Accident in Providence
You could file a claim with the government entity's liability insurance if their actions caused your injuries in the crash. If another driver failed to navigate the unlevel shoulder safely and caused the accident, you could file a claim with their auto insurance carrier.
The settlement you recover from an insurance claim could compensate you for your losses, such as:
Out-of-pocket expenses
Medical bills
Emotional distress
Lost wages
Lost earning capacity
Pain and suffering
Property damage
You could even be entitled to punitive damages, which is a form of compensation meant to punish the defendant for their misconduct. When you file a lawsuit, you must show the defendant's conduct was motivated by malice or ill will or involved callous or reckless indifference to another person's protected rights.
If your family member died in the accident, you could file a wrongful death claim for the losses you suffered. The administrator or executor of the deceased's estate is eligible to pursue a wrongful death case.
They must file within six months of the date the accident victim died. However, if they don't initiate the lawsuit in court, a beneficiary can file on behalf of any other beneficiary.
The compensation awarded in a wrongful death case can compensate the family for a range of losses, such as:
Pain and suffering the accident caused the deceased
Funeral and burial expenses
Loss of companionship, guidance, and care provided by the deceased
Medical bills related to the fatal injury
Loss of services the deceased provided for the family
Lost wages and benefits, including the value of benefits and wages the deceased could have earned if they were still alive
Deadline to File a Lawsuit in Rhode Island
Rhode Island has a three-year statute of limitations for car accident cases. That means you must file your lawsuit within three years of the crash date to seek compensation. Once the deadline passes, you lose your right to pursue a lawsuit for your suffered losses.
However, one exception could delay the statute. If you were under 18 at the time of the crash, the running of the clock would pause. The three-year statute would not start until you turn 18.
Contact Us
At the Law Offices of Ronald J. Resmini, Accident & Injury Lawyers, Ltd., our Providence car accident attorneys have more than 85 years of combined legal experience. We're familiar with state laws and procedures for recovering compensation for our clients. When you hire us, you will have a dedicated team in your corner to fight for you.
We have built and maintained an excellent reputation in the legal community. We received various awards and accolades from organizations, such as the Million Dollar Advocates Forum, Super Lawyers, and The National Trial Lawyers. We also hold an AV Preeminent® rating from Martindale-Hubbell.
We know the far-reaching effects of sustaining an injury in a car accident. It can disrupt your entire routine and require expensive medical care. The negligent party should be held liable for the suffering you were forced to endure.
If you were injured in an accident in Providence due to an unlevel shoulder, contact the Law Offices of Ronald J. Resmini, Accident & Injury Lawyers, Ltd. right now to learn about your legal options. We can determine whether someone else was at fault for the crash and work to hold them responsible. You can count on us to put our skills and experience to work for you. Call for your free consultation today at (401) 751-8855.