Providence Attorneys for Car Accidents Caused by Potholes
Have you been severely injured in a car accident that was caused by a pothole? You have the right to seek compensation for your injuries from the parties responsible.
While we enjoy being able to travel on the roads, streets, and highways throughout Rhode Island, our infrastructure can sometimes cause us serious danger. It's hard to escape potholes when driving on certain roads or highways. Sometimes, we can safely drive over them with little more than annoyance at the cumulative damage they can do to our tires. Other times, unfortunately, potholes can cause serious accidents in which drivers and passengers can sustain severe injuries.
The Providence car accident attorneys of Law Offices of Ronald J. Resmini, Accident & Injury Lawyers, Ltd. may be able to help you get the compensation and justice you deserve. Together, our personal injury attorneys have over 85 years of experience. Call us today at (401) 751-8855. You can reach us 24 hours a day, seven days a week.
How Potholes Cause Car Accidents
Smooth roads and highways that are free of debris are most conducive to safe driving. But when our roads and highways have potholes scattered throughout, real damage can befall almost any vehicle.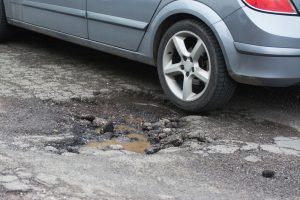 When a vehicle hits a pothole, it can cause extensive damage to the tires, including causing a blown tire. A blown tire can cause a driver to lose control of their car. This can lead to the car potentially swerving into oncoming traffic, being hit by another driver, or crashing into objects in and around the road. Similarly, when a driver unexpectedly hits a pothole, it can damage their wheels, shocks, suspension, or misalign their steering. Any of these sudden vehicle problems can cause a person to lose control of their car or the car to veer into traffic and crash into another driver or object.
Who Is Liable for Car Accidents Caused by Potholes?
Determining who was responsible, or liable, for a car accident is integral in a personal injury claim or lawsuit. The person or entity that caused the accident and your resulting injuries is liable and should have to compensate you.
When you're in a car accident because you've hit a pothole, liability can be determined based on where the accident occurred. If you were driving on a private road when you hit the pothole, the company or individual who owns the road is likely the at-fault party. If you were driving on a public road, government entities that may be responsible for maintaining the road could be liable.
Your attorney will investigate the accident and work to try to determine who was responsible for managing the road and fixing the pothole that led to your accident.
Compensation for Pothole Car Accidents
You can seek compensation for your car accident injuries to cover losses that you've suffered as a result of the accident and your injuries. You can be compensated for your:
Past, current, and future medical costs related to your injuries
Past, current, and future lost wages and income as a result of your injuries
Property damage
Emotional distress
Pain and suffering
Loss of quality of life
Loss of enjoyment of life
Permanent disfigurement and scarring
If your case goes to trial, you might also be awarded punitive damages. This form of compensation is only awarded by a court in certain cases and is intended to punish the at-fault party.
The amount of compensation you could be entitled to receive could be reduced in proportion to your responsibility for the accident. Under Rhode Island's comparative negligence law, your compensation is reduced by the same percentage of your fault in the accident. Even if you were 99 percent responsible for the accident, you could be entitled to receive compensation. However, your total compensable losses would be reduced by 99 percent.
Why You Need the Law Offices of Ronald J. Resmini, Accident & Injury Lawyers, Ltd.
If you want to maximize your chances of reaching a favorable outcome in a car accident claim or case, then you need an experienced Providence personal injury lawyer in your corner to fight for you.
Founding partner, Ronald Resmini, opened this firm four decades ago to represent injured victims at one of the most vulnerable times in their lives. While leading the skilled attorneys at our firm, Mr. Resmini has secured hundreds of millions of dollars in settlements and awards for our clients. He's an authority in personal injury law in Rhode Island, having written more than 20 books and many more articles on personal injury and torts law.
Our attorneys have been named Rising Stars by Super Lawyers, one of the leading legal industry rating services for lawyers throughout the country. We are members of The National Trial Lawyers: Top 100 and The Million Dollar Advocates Forum, both of which are invitation-only, top legal organizations for only the top litigators in the country. Additionally, two of our attorneys have been named to the list of the top ten personal injury lawyers in America by the National Academy of Personal Injury Attorneys – an esteemed organization that awards less than one percent of personal injury attorneys in the nation with this honor.
Here at the Law Offices of Ronald J. Resmini, Accident & Injury Lawyers, Ltd., we strive to represent clients who are injured by others' wrongdoing no matter their financial means. That's why we offer free initial consultations, and we don't require our clients to pay us any upfront fees or charges. You pay us when we successfully negotiate your claim for fair compensation or when we win your case.
We know how difficult this time must be for you, and we're prepared to be by your side when you need us. The Law Offices of Ronald J. Resmini, Accident & Injury Lawyers, Ltd. will fight as hard as we can on your behalf so that you get justice and are compensated for what you've gone through.
Call the Providence Law Offices of Ronald J. Resmini, Accident & Injury Lawyers, Ltd. for Help with Your Car Accident Case
If you've been seriously injured in a car accident caused by a pothole, contact the Law Offices of Ronald J. Resmini, Accident & Injury Lawyers, Ltd. immediately. We have over 40 years of experience handling a range of personal injury cases, including extensive experience representing clients who've been injured in car accidents.
At a free initial consultation, we'll discuss the next steps you should take to pursue compensation and offer you our best legal advice for your case. You aren't obligated to hire us, but if you do, you only pay us when you get paid.
Call the Law Offices of Ronald J. Resmini, Accident & Injury Lawyers, Ltd. right away at (401) 751-8855 for a free consultation.