Providence Attorneys for Car Accidents Caused by Snow, Ice, and Black Ice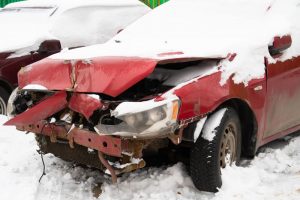 Rhode Island gets a lot of snow and ice every winter. Driving in snowy and icy conditions can be treacherous, especially on black ice, and these conditions cause many car accidents across our state each year that injure or kill thousands of people.
If you were hurt or lost a loved one in a car accident caused by snow or ice, especially black ice, you may be entitled to receive compensation. For a full evaluation of your claim from an experienced Rhode Island car accident attorney, call Law Offices of Ronald J. Resmini, Accident & Injury Lawyers, Ltd. at (401) 751-8855 to schedule a free consultation.
The Dangers of Snow and Ice, Especially Black Ice
Snow and ice cause roads to become slippery and undrivable. Even a thin layer of snow or ice can reduce your traction and greatly increase the amount of distance you need to stop your vehicle to avoid an accident. Although you can usually see snow and ice buildup on the road, one phenomenon that is responsible for thousands of car accidents each year in the country is black ice.
What Is Black Ice?
Black ice is a thin, clear layer of ice that forms on roads under certain conditions. Its name comes from the fact the ice appears the same color as the road surface because it's transparent, and it is very hard for motorists to see.
Black ice typically forms overnight and during the early morning hours when temperatures drop and not as many vehicles are on the road. It can also form in shaded areas of the road that do not receive direct sunlight, as well as on bridges and overpasses. It can form from freezing precipitation or from ice and snow that has melted and refrozen.
If you hit a patch of black ice, you can lose control of your car and collide with other vehicles or objects along the roadway.
Driving Safely on Snow and Ice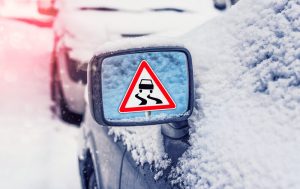 While driving on snow- and ice-covered roads is dangerous and treacherous, there are things you can do to help manage your travel in wintry weather and reach your destination safely.
Use snow tires and chains – You can purchase tires with treads designed to help maintain traction on snow. You can also place chains on your tires to help improve traction.
Reduce your speed – No matter the posted speed limit, you will need to reduce your speed when driving in any inclement weather. Snow and ice increase your chances of sliding, and you will not be able to stop as quickly as you would in dry conditions.
Avoid hitting the brakes – Using your brakes on slippery surfaces can actually cause you to lose control, especially if you hit the brakes too hard. You should slow your car by taking your foot off the gas pedal and letting your car decelerate. You can also shift down into a lower gear if you are driving a vehicle with a manual transmission.
Maintain your course – Most patches of black ice are only a few feet long, and you may be able to pass straight over the patch without incident. You should never try to swerve too abruptly to avoid the patch, and you should keep your car as straight as possible until you pass over the area.
Don't panic – You may panic when you suddenly lose control of your car, but you should remain calm, reduce your speed without braking, and turn in the direction of your slide if your car starts to spin. Panicking and trying to take evasive action can lead to a more serious accident.
Related reading: How to Prevent Winter Car Accidents
Obtaining Compensation for Car Accidents Caused by Snow and Ice
Like all other states, Rhode Island requires drivers to have car insurance to legally operate their vehicles on the road, and the following are the minimum coverage limits you must obtain:
Bodily injury liability – $25,000 coverage per person or $50,000 per accident
Property damage liability – $25,000 per accident.
Uninsured motorist coverage is required to be offered to all drivers but can be refused. This protects you in the event the other driver did not have insurance or did not have adequate insurance. It also pays in instances of hit-and-run where the other driver cannot be located. This type of coverage may have limits as well as a deductible you will have to meet.
Additionally, you can purchase comprehensive and collision coverage that will cover damage to your car from other causes such as flood, fire, and hail, as well as vandalism and theft. Collision covers damage caused when your vehicle strikes another object, such as a tree or another vehicle.
If you crashed your vehicle because of snow and ice and no other vehicles were involved, you will work with your own insurance company to obtain coverage for the damage to your car and any injuries you sustained. All insurance plans have a deductible that you must meet before coverage begins, and you could have to pay hundreds or thousands of dollars out of pocket.
Some insurance companies do not honor their clients' policies, and if you are having trouble getting your insurance company to pay for the damages you incurred, you can sue the insurance company for bad faith. The attorneys at Law Offices of Ronald J. Resmini, Accident & Injury Lawyers, Ltd. can explain your options and help you get all you deserve from your insurance company.
If Another Driver Caused Your Accident
If you suffered injuries in a car accident someone else caused because of snow and ice, you might obtain compensation if you can show the other party was acting negligently or carelessly in wintry conditions.
Some ways in which another driver could be held at fault for an accident on snow- or ice-covered roads include the following:
The other driver was driving too fast for conditions.
The other driver was driving recklessly or tailgating.
The other driver did not equip their vehicle with snow tires or chains or had worn tires with little traction.
Other factors could also qualify you to obtain compensation from the other driver, but you must file your lawsuit within a certain time in order to pursue compensation. Rhode Island has a statute of limitations that allows three years to file a personal injury lawsuit against the at-fault driver.
Contact Us
For help understanding your options for obtaining compensation for the injuries and losses you suffered due to a car accident caused by snow and ice, you can contact the attorneys at Law Offices of Ronald J. Resmini, Accident & Injury Lawyers, Ltd. at (401) 751-8855 to request a free consultation.