The air is crisp and clear. The temperatures are starting to drop, and the wind is picking up. You may enjoy the changing leaves and weather of fall and anticipate the coming winter. However, your risk of an accident may be greater in the fall, especially on wet, slick roads.
If you're injured in a car accident that is someone else's fault, you may be entitled to compensation. This can help cover your medical expenses and lost wages. The Rhode Island personal injury attorneys of the Law Offices of Ronald J. Resmini, Accident & Injury Lawyers, Ltd. are dedicated to protecting your rights and helping you seek fair compensation for your injuries and losses.
Why Is Fall More Dangerous?
Fall can bring its own set of dangers that can lead to a car accident. It's time to review some of these dangers and road safety tips for those shorter days and back-to-school schedules.
Kids: You may be used to the back-to-school traffic, but it also comes with more kids on the sidewalks and streets walking to the bus stop or to and from school. It's important to stay alert in school zones for young children who are walking and also for inexperienced drivers who have been given the car to pick up friends or siblings on the way to school. In most states, you must stop for a school bus with its red flashing lights on. Unfortunately, enough people disobey that rule that bus companies have begun using cameras to catch drivers.
Deer and small animals: During the fall months, deer are on the move. They don't obey the traffic rules and look both ways before crossing the street. Deer also have fewer natural predators and are living closer and closer to urban areas. One study estimated that 150 people die each year in collisions with animals, and 77 percent of those animals were deer. Property damage may be as great as $1 billion annually. An adult deer can weigh 300 pounds or more, so it's easy to see how they can damage your car.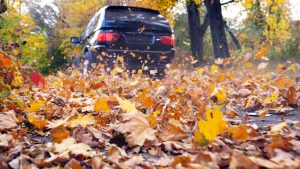 Leaves: The leaves are changing. If you live in a high tourist area, you may have more people who come to enjoy the fall foliage. Leaves can pile on the street and hide potholes and pavement markings. Bicyclists may stray from their designated lane to avoid a slick mess after the road has been soaked with rain. Wet leaves reduce traction no matter how new your tires are. It's important you leave plenty of stopping distance to avoid rear-ending someone and drive carefully through leaf-covered streets to avoid damage from large potholes.
Evening driving: The end of Daylight Saving Time means it's brighter in the morning when you get up but often darker in the evening when you're driving home from work. This affects your depth perception and peripheral vision. The glare of oncoming headlights can also temporarily blind a driver. Many people find it challenging to see road size clearly or judge speed and distance in the dark.
Sunshine: During the fall months, the sun is closer to the horizon during the hours that most people are driving. This means it may be shining directly into your eyes or reflecting off buildings and other cars. It's important to keep your windshield clear and your car filled with windshield cleaner. Keep sunglasses available, and if you're unable to see the road, pull over and wait. It usually takes no more than 15 minutes for the sun to move enough that it doesn't obstruct your sight.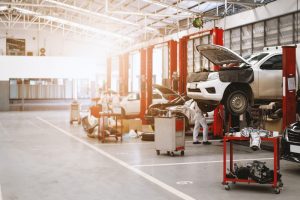 Car maintenance: Your car tires will perform better on wet and dry surfaces when they have enough tread.This means they will stop faster and steer better. It's also important to maintain proper tire pressure. When the air cools in the fall, it can drop tire pressure approximately one pound per square inch for every ten degrees of temperature drop.
You can potentially help reduce the damages of a fall car accident by maintaining and upgrading an emergency kit for your car. The National Safety Council recommends keeping several items in your car at all times to help in case of an emergency. Consider including:
Properly inflated spare tire
Wheel wrench and jack
Jumper cables
Tool kit
Flashlight and extra batteries (replace batteries every six months)
Reflective triangles
Flares
First aid kit
Nonperishable high energy foods
Drinking water
Reflective vest
Fire extinguisher
Cell phone car charger
Duct tape
Waterproof jacket
Blanket
Car Accident Injuries
Car accidents can cause a variety of different injuries. They can range from mild to severe. After a car accident, you may be diagnosed with:
Lacerations
Broken bones
Paralysis
Cuts and bruises
Soft tissue injury
Muscle strain
Internal injuries
Concussion
Post-traumatic stress disorder
Anxiety
How Can the Law Offices of Ronald J. Resmini, Accident & Injury Lawyers, Ltd. Help?
The Law Offices of Ronald J. Resmini, Accident & Injury Lawyers, Ltd. have won millions of dollars and verdicts and settlements for our clients. Our legal team is experienced in defending complicated cases. We recognize that you have a unique story, and our team is ready to work with you.
Call the Law Offices of Ronald J. Resmini, Accident & Injury Lawyers, Ltd. today to schedule your free consultation. We'll discuss the specifics of your case and advise you on your next best step. Call us now at (401) 751-8855.