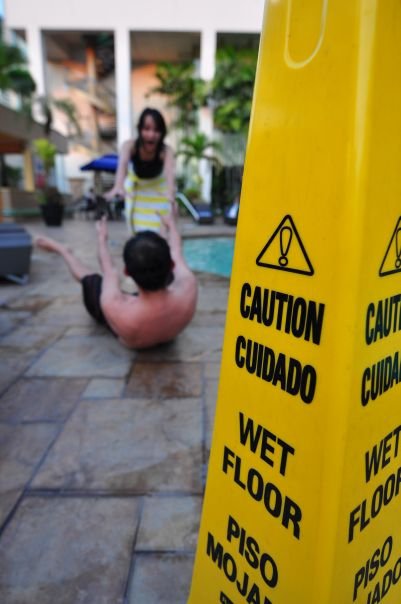 Sometimes it's difficult to prove who's at fault for slip and fall accidents. Many people are seriously injured each year from slipping and falling on the floor, stairs, or other slippery or uneven surface. Sometimes even the ground becomes uneven and people fall resulting in serious injuries.
As a property owner you're required by law to maintain your property so that it is safe for visitors and passersby. If anyone experiences a serious slip and fall accident on your property, you may be liable.
Oftentimes slip and fall accidents occur in public areas such as restaurants, parking lots, hotels, gas stations, grocery stores, apartment complexes, convention centers, just about anywhere you go in public. These accidents are often the result of:
• Slipping on ice and snow on sidewalks, driveways or walkways
• Falling into an open hole
• Slipping and falling down a flight of stairs
• Falling on dangerous patches of pavement or ground
• Slipping on liquids or food on the floor
• Building code violations
• Defective stairway or floor design
• Lack of a proper stairway handrail
Slip and fall cases are not clear cut, they can be very complex because there may be multiple people responsible for your accident.
If you've been injured in a slip and fall accident, you need to ask yourself this question before thinking of filing a lawsuit – If the property owner was more careful could my accident have been avoided?
While there is no clear cut rule as to what has to have happened in order to file a lawsuit, in general, if the property owner exercised reasonable care to ensure that their property was free from dangerous conditions, you would have to discuss your case with an experienced Rhode Island Personal Injury Attorney to determine whether the property owner would be liable for your injuries.
The other issue in slip and fall accidents is based upon determining whether or not your carelessness contributed to the accident. The rules of "comparative negligence" help measure your own reasonableness in going where you did, in the way you did, just before the accident happened. Comparative Negligence means that if you in some way were responsible for your injuries, your award for damages will be lessened based upon the amount that you were comparatively at fault.
If you or someone you love has been injured in a slip and fall accident, our Rhode Island Personal Injury Attorney can assist you to explore your legal options and determine if you have grounds to file a lawsuit.
You'll find the help you need at the Law Offices of Ronald J. Resmini, Accident & Injury Lawyers, Ltd., where we have been successfully representing people in personal injury cases for more than forty years.
Our Personal Injury Lawyers have all been designated as "Super Lawyers" or "Rising Stars" by Super Lawyers Magazine. Ronald J. Resmini has earned the highest possible rating from Martindale-Hubbell and is a member of the Million Dollar Advocates Forum.
We have won millions of dollars in successful verdicts and settlements for our clients. We are a top-notch Rhode Island Law Firm that knows how to defend complicated cases such as Slip and Fall Accidents.
Call the Law Offices of Ronald J. Resmini, Accident & Injury Lawyers, Ltd. today to schedule your free consultation with a Rhode Island Personal Injury Attorney. Pick up the phone and call us now at 401.751.8855.