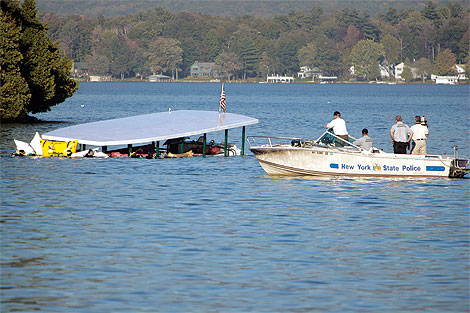 Water Sports such as boating, sailing, jet-skiing and wake-boarding are a great recreational pastime for people enjoying the summer fun in Rhode Island.
Unfortunately, as with all forms of transportation, there are risks and dangers involved with boating and jet-skiing. Oftentimes the mix of boating, alcohol, and more crowded water can led to more boating accidents and more boating related injuries.
According to the U.S. Coast Guard, the most common causes of boat accidents include: alcohol use, careless or reckless operation, excessive speed, hazardous waters, operator inattention and operator inexperience.
Collisions are among the most common boating accidents. Collisions include collisions with other water vehicles and collisions with objects such as piers. Collisions can be as minor as property damage or more dangerous and result in the loss of life or bodily harm to another boater, a boat passenger or a swimmer.
The second most common boating accident is someone falling on the boat or falling off the boat. Falling or slipping accidents are very common while boating because of slippery surfaces, speed and alcohol. It is very common for someone to trip, slip or fall while on the boat, getting on the boat or getting off the boat. Unfortunately there are many instances when people actually fall off the boat, passengers may fall accidentally or be thrown out of the boat during a collision.
Here are some safe boating tips to ensure that you have fun while boating.
• If you are driving the boat, do not drink any alcohol.
• Make certain you have safety equipment on board the boat.
• Require that all children wear life jackets while on the boat.
• Be a safe driver, abide by all speed limits, rules and signs.
• Watch your surroundings, keep an eye out for swimmers, people on jet skiis, water-tubes, water-skiis, and paddle boards.
• If passengers are water-skiing or water-tubing have a spotter.
• Have all passengers wear bright colors while in the water.
• If someone is intoxicated on the boat, make them wear a life jacket and make them sit down until you can return to shore.
• Do not boat in bad weather and low visibility. Drive slowly in bad weather conditions.
Choose the Right Personal Injury Attorney for Your Rhode Island Boating Accident Case
If you or a member of your family suffered serious injuries in a boating accident due to another person's negligence, you should find a highly experienced Rhode Island personal injury attorney to represent you. In Providence, a top choice is the Law Offices of Ronald J. Resmini, Accident & Injury Lawyers, Ltd..
Here's why:
• Forty-four years of legal experience
• Dedicated exclusively to the practice of personal injury law
• Leading safety experts on call to support your case and give expert testimony
• Highest possible peer rating by Martindale-Hubbell
• All attorneys designated as "Super Lawyers" and "Rising Stars" by Super Lawyers Magazine
• Membership in Million Dollar Advocates Forum
• Millions of dollars in recovery awards for clients
• Client-centered law practice focused on you and your needs
Free Legal Consultation
As soon as possible after your accident, call the Law Offices of Ronald J. Resmini, Accident & Injury Lawyers, Ltd. at 401.751.8855 to schedule your no-cost, no-obligation appointment. We will answer your questions, inform you of your legal options, and guide you through the complex process of recovering money for your injuries in the state's civil law system. Time restrictions apply, so protect your right to recover by calling today.