Personal Injury Attorney Rhode Island Construction Workers at Higher Risk for Accidents Leading To Workers Compensation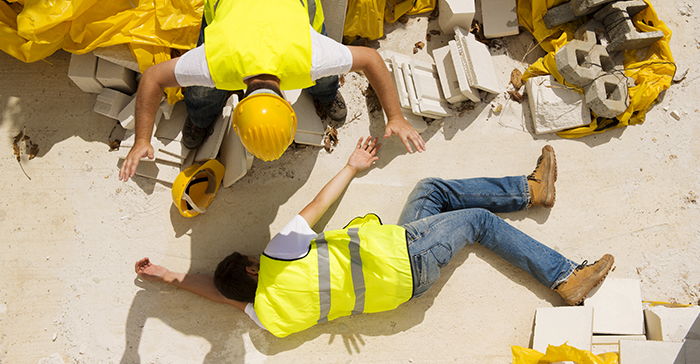 Workplace injuries can occur in any business or industry. Construction workers have one of the highest worker injury rates of any occupation in the United States. The US Department of Labor Statistics reports that in 2013, 4,585 construction workers were killed on the job, one in five worker deaths last year were in construction. This why you need to know your workers compensation rights.
According to the American Public Health Association, almost all construction workers will sustain injuries on the job at least once in their lifetimes. Data from the Occupational Safety and Health Administration (OSHA) shows that one in ten construction site workers are injured every year. According to the Bureau of Labor Statistics, there are approximately 150,000 construction site injuries each year. Workers between 25 and 34 years old are the most likely to be injured in a construction site accident, and according to OSHA, falls are the leading cause of injury at construction sites.
A construction site accident can cause serious, life-threatening injuries such as: head injuries, brain injuries, burns, blindness, loss of limbs, spinal cord injuries, disfigurement, and even death.
The majority of construction accidents are the result of OSHA violations.
Common violations include:
Lack of fall protection
Defective wiring and equipment
Unstable ladders and scaffolding
Lack of respiratory protection
Failing to warn construction workers of hazards in specific locations
Unsafe heavy equipment and trucks
Site hazards including gas pipes and electrical lines
Allowing workers to use equipment without safety guards
Falling objects
Missing barricades used to block off trenches and excavations
When a construction worker gets injured on the job, they may be eligible for Workers Compensation, it is estimated that 15 percent of Workers Compensation payouts are for injured construction workers.
Unfortunately, Workers Compensation benefits usually don't provide enough money to cover the injuries sustained, in part due to the fact that most injuries involving construction workers are injuries to their backs, spines, and trunks. In some cases the injured worker may be eligible for additional compensation as well.
If you or a loved one has been seriously injured, or a loved one killed, in a construction accident, let our Rhode Island Personal Injury Attorney help you navigate the complex legal proceedings.
You'll find the help you need at the Law Offices of Ronald J. Resmini, Accident & Injury Lawyers, Ltd., where we have been successfully representing people in personal injury cases for more than forty years.
Our Personal Injury Lawyers have all been designated as "Super Lawyers" or "Rising Stars" by Super Lawyers Magazine. Ronald J. Resmini has earned the highest possible rating from Martindale-Hubbell and is a member of the Million Dollar Advocates Forum.
We have won millions of dollars in successful verdicts and settlements for our clients. We are a top-notch Rhode Island Law Firm that knows how to defend complicated cases such as Workers Compensation.
Call the Law Offices of Ronald J. Resmini, Accident & Injury Lawyers, Ltd. today to schedule your free consultation with a Personal Injury Attorney Rhode Island. Pick up the phone and call us now at 401.751.8855.