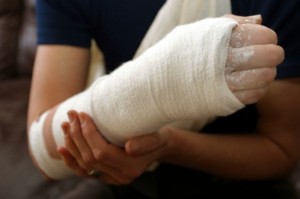 Car accidents are a leading cause of injuries. Over 5.6 million car accidents were reported in the United States in 2012. Of these, over 30,000 of were fatal and another 1.6 million involved other injuries.
In 2013, there were over 5.6 million car accidents in the United States. Of these, over 1.6 million involved injuries and 30,000 resulted in death.
Being involved in a car accident is an extremely traumatic experience that can result in serious injuries and even death. When people are hurt in a car accident, the most common injuries are to the head, the neck, and the back. Other common injuries involve the internal organs, legs, and arms.
Common Car Accident Injuries
Whiplash
The term "whiplash" is a non-medical term frequently used to describe a range of neck injuries following a car accident A whiplash injury is an injury that affects the soft tissues of the neck. It is a neck sprain or neck strain and is most common in rear end collisions. Fortunately, a whiplash injury is not usually a life threatening injury, however, it can lead to a prolonged period of partial disability.
More severe neck injuries such as a broken neck can result in instant death. Other neck injuries may crush the larynx or trachea.
Back Injuries
Suffering a back injury when involved in a car accident is very common. If there was injury to the spinal cord, one can suffer nerve damage. A herniated disc is another common back injury that people suffer in car accidents, while less severe than an injury to the spinal cord, this injury can cause significant problems.
Traumatic Brain Injury
TBI, or traumatic brain injury, is an extremely complex and damaging auto injury occurring more commonly in side impact crashes.TBI can be mild and temporary like a concussion, or cause permanent impairment of critical brain functions uch as speech, vision, concentration, memory and emotional control.
Head Injuries
Other head injuries such as eye injuries, which can result in partial vision loss or blindness; injuries to the ear that result in loss of hearing; facial or jaw fractures; and dental injuries, including loss of teeth.
Chest Injuries
Chest injuries are very common car accident injuries. These injuries typically present themselves as contusions or bruises, but can be more severe, such as broken ribs or internal injuries. Drivers often experience chest injuries when their chest collides with the steering wheel. If a person's body is thrown forward in a collision, even though it might not impact the steering wheel or dashboard, the chest area will still experience a high level of force against the shoulder harness or seat belt, which can cause severe bruising and internal injuries.
Pelvis/Abdominal Injuries
The impact of a motor vehicle accident can cause internal injuries, many of which are life threatening. These types of injuries include injuries to bowels, kidneys, the spleen, liver, lungs, heart or aorta. Fractured ribs are also quite common, and can puncture the lungs.
Arm and Leg Injuries
Arm and leg injuries are typically the result of crush injuries sustained in a car accident. Common injuries to the arm and legs are strains, sprains, and fractures.
Psychological Injuries
Many people involved in car accidents suffer emotional distress such as anxiety, insomnia, depression and post-traumatic stress disorder (PTSD). Psychological injuries can have long-lasting effects.
Studies of car accidents have shown that the severity and type of injury sustained in a car accident is determined by where a person is seated in the car. The closer one is seated to the point of impact, the more severe the injuries.
Get the Help You Need after a Car Accident Injury
If you or a loved one has been seriously injured, or a loved one killed, in a car accident, let our Personal Injury Attorney Rhode Island help you navigate the complex legal proceedings.
You'll find the help you need at the Law Offices of Ronald J. Resmini, Accident & Injury Lawyers, Ltd., where we have been successfully representing people in personal injury cases for more than forty years.
Our Personal Injury Lawyers have all been designated as "Super Lawyers" or "Rising Stars" by Super Lawyers Magazine. Ronald J. Resmini has earned the highest possible rating from Martindale-Hubbell and is a member of the Million Dollar Advocates Forum.
We have won millions of dollars in successful verdicts and settlements for our clients. We are a top-notch Rhode Island Law Firm that knows how to defend complicated cases such as Car Accidents.
Call the Law Offices of Ronald J. Resmini, Accident & Injury Lawyers, Ltd. today to schedule your free consultation with a Rhode Island Personal Injury Attorney. Pick up the phone and call us now at (401) 751-8855.