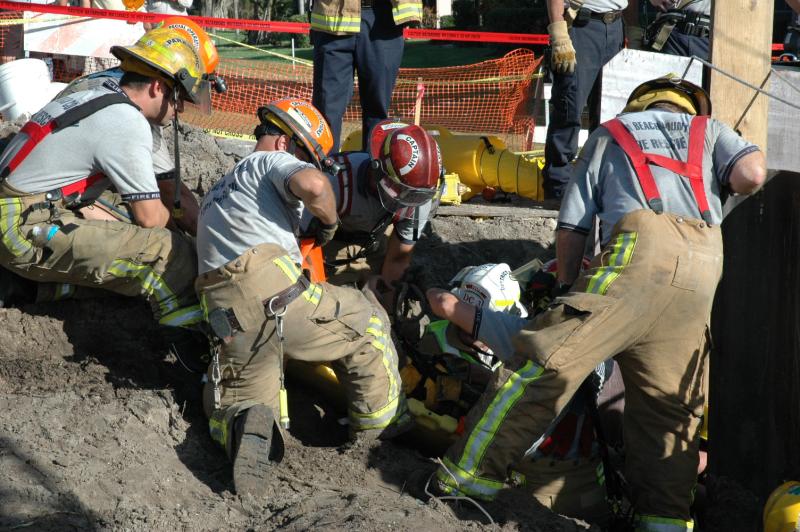 Construction workers work in one of the most dangerous occupations in the United States. According to the U.S. Bureau of Labor Statistics, an average of 12 construction workers are killed on the job each and every day. The leading causes of worker deaths on construction sites were falls, followed by struck by object, electrocution, and caught-in/between.
While working construction jobs, construction workers have to take many safety precautions to avoid being injured while at work. Most states have regulations concerning on-the-job safety training for construction companies. However, if a construction company fails to provide adequate safety training for its employees and an employee becomes injured on the job, the company may be liable for the worker's injuries.
In most cases the employee can sue their employer even if it was the worker's own fault that they suffered the injuries.
In order to win a personal injury lawsuit for harm caused by improper safety training, a worker must prove three elements:
That the defendant had a duty to provide adequate safety training to the worker
That the defendant breached that duty
That the breach caused harm
In order for an employee to win a lawsuit against their employer based upon failure to provide safety training, the company must have had a duty to provide safety training to the worker, not all companies involved in construction have a duty to provide safety training for their employees.
In general, if an employer has an employee perform a certain task, the employer has an obligation to ensure that the employee knows how to perform the task safely.
Construction accidents can lead to serious injuries, including permanent disability and death. Some of the most common injuries suffered by construction workers are amputations, burns, fractures, brain injuries, spinal cord injuries, joint injuries, crush injuries and internal organ damage.
In personal injury cases involving these types of claims, it is critical that the injury was due to the employer's negligence to provide safety training to the employee.
The most common types of damages in a Construction Worker Injury Claim include:
Medical expenses
Lost wages (for time missed from work due to the injury)
Pain and suffering
Loss of normal life (the decreased quality of a person's life as a result of the injury)
If you've been hurt in a construction accident, our Rhode Island Personal Injury Attorney can assist you to explore your legal options and determine if you have grounds to file a lawsuit. Our Rhode Island Law Firm and team of experienced personal injury lawyers are extremely knowledgeable about Construction Accident Litigation.
You'll find the help you need at the Law Offices of Ronald J. Resmini, Accident & Injury Lawyers, Ltd., where we have been successfully representing people in personal injury cases for more than forty years.
Our Personal Injury Lawyers have all been designated as "Super Lawyers" or "Rising Stars" by Super Lawyers Magazine. Ronald J. Resmini has earned the highest possible rating from Martindale-Hubbell and is a member of the Million Dollar Advocates Forum.
We have won millions of dollars in successful verdicts and settlements for our clients. We are a top-notch Rhode Island Law Firm that knows the various options available to you when filing a work related injury claim.
Call the Law Offices of Ronald J. Resmini, Accident & Injury Lawyers, Ltd. today to schedule your free consultation with a Rhode Island Personal Injury Attorney. Pick up the phone and call us now at (401) 751-8855.