If you were injured in an accident by a careless individual, your attorney may decide a personal injury lawsuit is the best path forward for seeking the compensation you deserve. However, the prospect of preparing for a trial can seem daunting. In many cases, the deposition process is the most nerve-wracking aspect for the plaintiff. At the Law Offices of Ronald J. Resmini, Accident & Injury Lawyers, Ltd., we want you to feel prepared for what's to come. Part of that preparation means understanding what happens during a deposition and how you can provide a successful deposition to strengthen your case.
What Is a Deposition?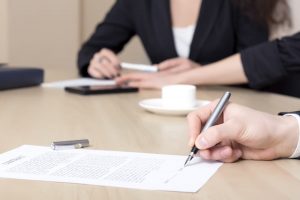 If you are moving forward with a personal injury lawsuit, you'll be asked to sit for a deposition at some point. The deposition process is an informal question-and-answer session between you and the other party's attorney. During the deposition, the opposing attorney asks you questions about the circumstances of the accident.
Most interviews take place in an attorney's office, not a courtroom. Even though the setting is more informal than a courtroom, depositions are conducted under oath. You must be completely truthful when answering an attorney's questions. Although the opposing attorney will be asking you questions, your attorney may be present during the questioning.
What Is the Purpose of a Deposition?
Depositions are a part of the discovery phase of a lawsuit, which is the portion of a case meant for uncovering evidence and information. A deposition helps attorneys prepare for trial by establishing:
What an individual knows about the circumstances of an accident
How an accident may have occurred
The extent of a person's injuries following the accident
How an individual's injuries are impacting their life
A written record of witness testimony
A skilled attorney will also take the opportunity to use a deposition as a jumping-off point for evaluating the strengths and weaknesses in the case. Depending on the direction the deposition takes, the process can also help an attorney determine an individual's credibility. Understanding the importance of the deposition phase is crucial because how you respond can either strengthen or jeopardize your legal position.
What to Do to Provide a Successful Deposition
Opening up about a traumatic experience under oath can be stressful. Your attorney will take the time to prepare you for what is ahead, but there are also steps you can take to provide a successful deposition. Consider these tips to reduce stress and go into the process with a level head.
Tell the truth – Do not fall into the all-too-common trap of enhancing or embellishing your account of the accident. You are under oath during a deposition, meaning you promised to tell the truth about the incident. Offering a white lie or half-truth can damage your credibility and jeopardize your case.
Never make assumptions – Stick to the facts. Do not offer your opinion or make assumptions about the accident.
Remain polite and professional – Being asked the same question ten different ways can get frustrating. Remain polite and level-headed during questioning. Offer courteous and respectful answers and if you have trouble understanding something, ask for clarification.
Dress appropriately – A deposition may be an informal Q&A session, but it is still part of a legal proceeding. Dress appropriately for the occasion. Showing up in a stained T-shirt and pajama pants is disrespectful. Try to aim for business casual attire.
Answer carefully – Communicate with words, not gestures. A stenographer types up the questions and your responses so each attorney can review the information later. Gestures like head nods or saying "uh-huh" can muddy the waters. Make your position crystal clear and communicate with words and complete sentences.
After the Deposition
After the deposition is over, a court reporter will prepare copies of the interview, called a "transcript." The attorneys for each party can review the transcript looking for potential inconsistencies or mistakes that may impact their case. Depending on the strength of the deposition, settlement negotiations may be the next step to avoid a trial.
Understanding the importance of the deposition is crucial because how you respond can either strengthen or jeopardize your legal position.
Contact a Skilled Personal Injury Attorney Today
Preparing to take your case to trial and being questioned by an opposing attorney can feel overwhelming. At the Law Offices of Ronald J. Resmini, Accident & Injury Lawyers, Ltd., our experienced personal injury attorneys in Rhode Island have the knowledge and resources to help you prepare for your part in the legal process.
We have offices in Providence, Warwick, Newport, and Fall River, MA, and we want to help you recover fair compensation for your injuries, and we'll provide effective and compassionate legal representation.
If you've been injured in an accident by a careless individual, call our office today at (401) 751-8855 to request a free consultation.
Related posts: