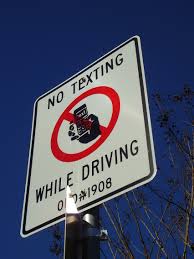 With virtually everyone owning a cellphone, cellphones have become a major part of our everyday life, and while the benefits of cellphones are numerous, using a cellphone has also proven to be extremely dangerous.
Most people are aware of the dangers of texting and driving, and most people are probably also aware of the dangers of getting distracted while talking on cell phones while driving, even if people are talking on hands free devices.
What most people are not aware of is, that distracted driving has become more dangerous than drunk driving, and is now the leading cause of death for teenagers in the United States.
In a matter of just a few seconds, a distracted driver can cause serious injuries or even death to themselves or others. In 2012, distracted driving accidents killed 3,328 people, an additional 421,000 people were injured. The number of injuries increased by 9 percent over the preceding year. Despite the known hazards and the fact that in many states it is illegal, people persist in using their cellphones while driving.
Studies show that drivers using phones to text are twice as likely to cause a crash as a drunk driver and are eight times as likely to cause a crash as other drivers. There are three main types of distractions:
• Visual – taking your eyes off the road.
• Manual – taking your hands of the steering wheel.
• Cognitive – taking your mind off what you're doing.
A study conducted by the Centers for Disease Control and Prevention revealed that 69 percent of U.S. drivers between the ages of 18 and 64 reported recent cellphone use while driving. Nearly one-third additionally reported reading or sending texts while driving at least once in the 30 days prior to their study participation.
Studies show that if you are going 60 MPH on a highway, it only takes 2 seconds of inattention to cause a car accident. When you consider that texting typically takes your eyes off the road for an average of 4.6 seconds, the potential for a serious car accident is almost inevitable.
When someone is seriously injured in an accident caused by a distracted driver, the driver that caused the accident may be responsible for paying damages to the injured parties.
If you or a loved one has been injured in a car accident caused by distracted driving, let our Rhode Island Personal Injury Attorney help you navigate the complex legal world of insurance companies, claims agents and legal proceedings.
You'll find the help you need at the Law Offices of Ronald J. Resmini, Accident & Injury Lawyers, Ltd., where we have been successfully representing people in personal injury cases in Providence, Rhode Island, Massachusetts, and beyond for more than forty years.
Our Personal Injury Lawyers have all been designated as "Super Lawyers" or "Rising Stars" by Super Lawyers Magazine. Ronald J. Resmini has earned the highest possible rating from Martindale-Hubbell and is a member of the Million Dollar Advocates Forum.
We have won millions of dollars in successful verdicts and settlements for our clients. We are a top-notch Rhode Island Law Firm that knows how to defend complicated cases such as Distracted Driving Accidents.
Call the Law Offices of Ronald J. Resmini, Accident & Injury Lawyers, Ltd. today to schedule your free consultation with a Rhode Island Personal Injury Attorney. Pick up the phone and call us now at 401.751.8855.