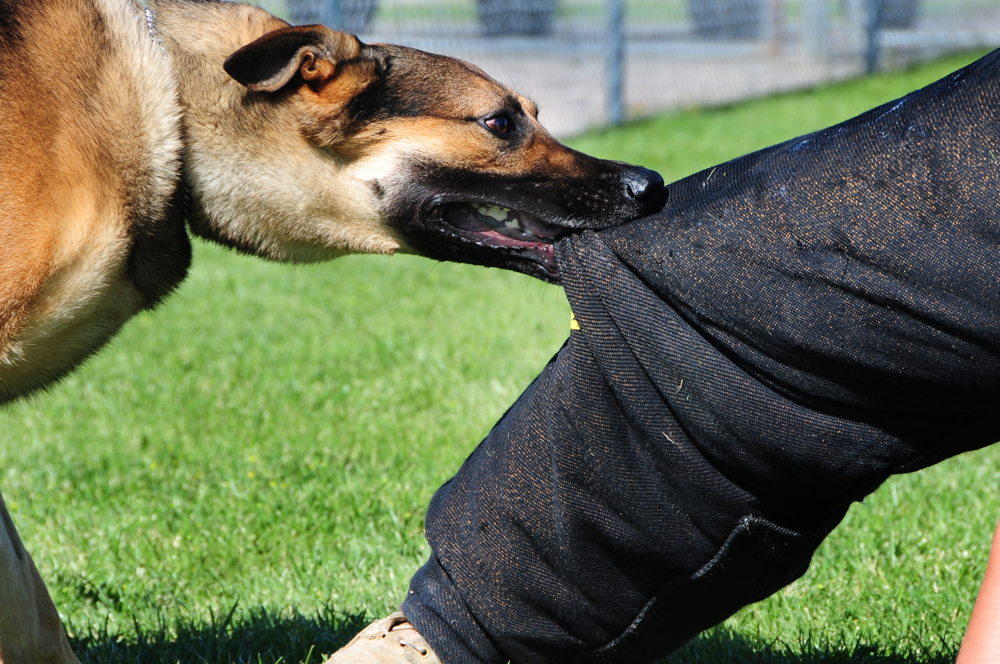 According to the Center for Disease Control and Prevention (CDC) approximately 4.5 million people in the United States are bitten by dogs. On average, only one out of every five people bitten require medical attention.
The most common victims of dog bites are children under the age of thirteen. Due to their size, children are also most likely to be severely injured by dog bites. It is believed that because most small children are not aware of how to interact with dogs, they are most likely to be bitter by dogs.
These are the most common reasons dogs bite people.
Possessiveness – Dogs will "guard" what they perceive to be their property, this could be their food, their toys, their owners or the area they are in.
Fear – Dogs will bite when they are afraid. Avoid sleeping dogs, do not tease dogs, never approach a dog you are unfamiliar with.
Pain – Even the friendliest dog will bite if they are in pain. If your dog is experiencing pain, it is important to keep your pet away from others. If your dog's behavior changes and they become irritable, it is important to take them to a vet for a check up to see if they are having medical issues.
Maternal Instincts – Do not approach a dog and her puppies, she may bite you if she thinks you are going to hurt one of her puppies. If you are the dog owner, provide a place where the dog and her puppies can feel safe, and will not be approached by people.
Prey Drive – If you jog or ride your bike, be aware that a dog may start chasing you. This is a competitive instinct in dogs, it is called prey drive. Try to avoid crossing paths with a dog if you are biking or jogging.
If your dog bites someone, your first priority is to gain control of the dog and assist the dog bite victim. Stay calm, don't argue with the victim. If the dog bite victim needs medical treatment, call 911. You should pay the victim's medical expenses. If the victim does not need immediate medical attention, provide your contact information to the victim, make certain to get the victim's contact information. If there were any witnesses, make certain to get their contact information as well. Make certain that you have the dog's updated vaccination records available. You'll want to make certain to give the victim information about the dog's rabies vaccinations.
Stay calm and document as much information about the incident as possible. There is a chance that the victim will take legal action against you. Do not make statement to anyone about the incident until you have spoken with a legal professional. You'll find the help you need at the Law Offices of Ronald J. Resmini, Accident & Injury Lawyers, Ltd., where we have been successfully representing people in personal injury cases in Providence and beyond for more than forty years.
Our Personal Injury Lawyers have all been designated as "Super Lawyers" or "Rising Stars" by Super Lawyers Magazine. Ronald J. Resmini has earned the highest possible rating from Martindale-Hubbell and is a member of the Million Dollar Advocates Forum. The lawyers of the Law Offices of Ronald J. Resmini, Accident & Injury Lawyers, Ltd. have many years of experience handling dog bite and other personal injury claims, and can give you clear, straightforward, and honest answers to all of your questions about the legal process regarding dog bites. Call the Law Offices of Ronald J. Resmini, Accident & Injury Lawyers, Ltd. today to schedule your free consultation with a Rhode Island Lawyer. Pick up the phone and call us now at (401) 751-8855.